Ask the experts
Here is a selection of Q&As from Your Bristol and Somerset Wedding magazine. If you would like your question answered by our experts, please email it to editor@yourbristolsomerset.wedding.
To view more Q&A's on a different topic, please select one from the list below.
Hot topic: Wedding planning
Our experts solve your dilemmas
---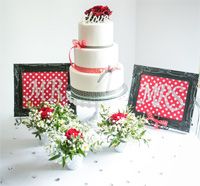 Retro vibes
Q. We're having a 1950s retro wedding in a country hotel and we love the idea of using polka dots as a theme. What décor would work best for this?
A. Lorna Bell says: When you've decided on a theme for your wedding it's important not to get carried away and have it everywhere. We'd recommend picking a few key elements to give the overall impression of a 1950s look.

Polka dots are a really strong pattern so try breaking them up with stripes or blocks of solid colour. If your bridesmaids are in patterned dresses then perhaps don't use it in every aspect of your décor or it'll dilute the impact for your family and friends. Try using the style in the key areas of your venue such as your cake table, entrance and table plan. This means the elements will be spread out and subtle on the day but when you see your photograph album it'll contain a strong sense of your big-day style.
---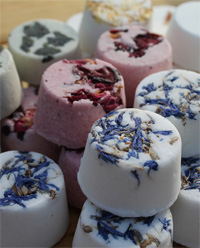 The perfect gift
Q. We're really struggling to find favours for our guests that fit in with our rustic theme. What do you suggest?
A. Nichola Penn says: A lot of our customers are looking for favours that can be personalised for their wedding and that are also supporting local businesses. Our products are hand-crafted in rural Somerset, at the foot of the Quantock Hills. The luxurious range of natural cosmetics, including lip balms, soaps and bath truffles, can be made to your requirements with labels bearing your wedding date, names, venue – anything you can think of!

Boo Cottage bath truffles contain cocoa and shea butter to leave your skin wonderfully moisturised and our soaps and lip balms contain only natural ingredients with proven skin benefits. If you really want to get personal, why not let us create a product using your favourite essential oil? Think cedarwood, ylang ylang or bergamot, all can be added to make the perfect gift for your loved ones.
---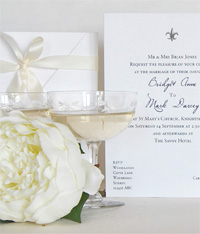 Style your d ay
Q. We're getting married in a beautiful manor house in winter and having a lavish black-tie affair. How can we incorporate this theme in to our invitations and on-the-day items?
A. Lizbeth Holstein says: With stationery, I believe less is more. Everything about a wedding is lavish, from the flowers to the cake and gown, so I think stationery should be simple, clean and classic. The first indication of your theme will be when your invitation lands on your guest's doormat so it's important to get it right.

For your day, I'd suggest a classic invitation using the finest boards and papers. For added sophistication we can use a gold or silver gilt edge with round or square corners. You can choose an illustration from our gallery, or to make it extra special, you can have a motif created by one of our artists. This design can then carry through everything from your save-the-dates to your table numbers and favour tags. No matter when you choose to tie the knot your wedding will be the most important day of your life and setting the scene with beautiful stationery helps bring your vision to life.
---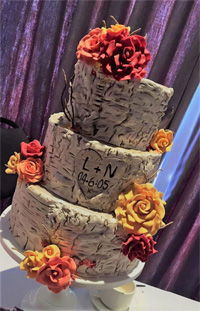 Let them eat cake
Q. We're having an autumnal theme for our October wedding. How do we incorporate this in to our cake design and what flavours work best for the time of year?
A. Louise Hitchens says: I love autumn as it offers such gorgeous natural colours. I envisage reds, oranges and browns with pumpkins, pinecones, hedgehogs and fallen leaves. All of these concepts would make a real showstopping cake and with the addition of hessian or twine you can add a really rustic feel to a modern design.

A tree bark cake would be ideal for this theme or a warm ivory covering would also work well if you're going for a more traditional look. I'd then decorate the cake with deep red or purple calla lilies with red roses, orange buds and neutral cream blooms. You could also consider adding some sugarcraft pinecones, pumpkins and fallen leaves. A classic chocolate or vanilla sponge would be perfect alongside a salted caramel cake to give a warm, rich flavour for the season.
---
Contact our experts...

Lizbeth Holstein
Creative director

Lorna Bell
Director and stylist

Louise Hitchens
Cake designer

Nichola Penn
Founder and owner
---