Ask the experts
Here is a selection of Q&As from Your Bristol and Somerset Wedding magazine. If you would like your question answered by our experts, please email it to editor@yourbristolsomerset.wedding.
To view more Q&A's on a different topic, please select one from the list below.
Hot topic: Winter weddings
Our experts solve your problems
---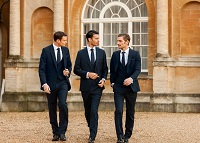 Suited and booted
Q. What's hot for winter weddings this year? My hubby-to-be loves fashion and wants to rock the perfect seasonal look.
A. Jayne Wolstenholme says: 2016 has seen a move towards the traditional morning tailcoats, proving yet again that these styles can stand the test of time. Tweed and colourful low scoop waistcoats add a fresh, contemporary feel while the grey double breasted option remains a timeless, classic look.

Navy suits remain popular, and many grooms are opting for a matching waistcoat to create a three-piece look.

Is your partner thinking of buying his suit? More and more grooms are hiring for their groomsmen, and treating themselves to a new made-to-measure number. This allows you to choose a lining in keeping with the wedding theme and colours, and you can even add a date monogram as a constant reminder of your special day! Don't forget made-to-measure suits have a six to eight week lead time, you'll need to allow a minimum of three months before the wedding date.

In the autumn, richer berry shades replace lighter, pastel colours, with dark brown leather shoes in place of tan – our Bordo brogues can complete your partner's outfit, complementing navy suits perfectly, and fitting in with your winter wedding theme.
---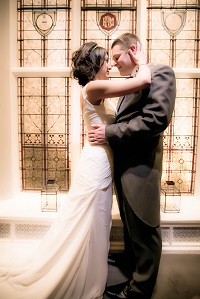 Inside or out
Q. We're tying the knot in November and we understand the weather might not be great so have chosen a fabulous venue with interesting décor. Do you think we can still achieve a picture-perfect album with only indoor images?
A. Jacky Badenhorst says: Absolutely! There are so many lovely venues that can make a winter wedding extra special and there's no reason why poor winter lighting will prevent you from obtaining wonderful indoor photographs. A great photographer will be able to use their creativity, imagination and, of course, their skills to produce amazing images for a wedding whatever time of year. Venues with interesting décor, such as wooden staircases, large open fireplaces and chandeliers make magnificent backdrops for romantic images. While smaller venues can still provide great settings with mood lighting and kaleidoscopic colour.

Planning is absolutely essential, I always suggest arranging a venue visit with the couple a week before the big day to discuss the options available and incorporate their thoughts and ideas into the final shoot.

People often think that indoor photographs and a lack of natural light will ultimately lead to dull, dark photographs but this isn't necessarily so. I use a range of artificial lighting that can be set up beforehand to ensure that the light is perfect for those special images. I also have a few tricks up my sleeve when the natural light starts fading away to ensure that the images and special memories can be captured for the entire day.
---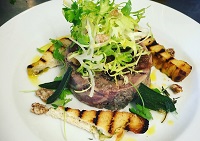 Divine dining
Q. We're having a winter wedding and, as we're both real foodies, would love to wow our guests with a tasty seasonal menu. What do you suggest?
A. Caroline Gent says: What a fab time of year to get married. There's a whole host of tantalising options that will leave your hungry guests satisfied.

Here's a brilliant menu idea....


AUTUMN & WINTER

Individual starters
- Local Game Rillettes, Celeriac Remoulade, Rose hip Jelly, Sourdough Toast
- Ragu of Wild Mushrooms, Brioche Toast, Kale Pesto, Montgomery Cheddar Crisp
- Somerset Goats Cheese Rarebit, Apple Salad, Toasted Hazelnuts, Endive, Balsamic Reduction, Chicken Liver Parfait, Red Onion Marmalade, Wild Rocket, Extra Virgin Rapeseed Crostini, Salad of Camelot Blue, Red Wine Poached Pear, Pickled Walnut and Chicory

Main courses
All main courses served with seasonal vegetables
- Free Range Chicken stuffed with Wild Mushrooms and Sage wrapped in Smoked Bacon served with Chive Mash and Somerset Cider Cream Sauce
- Slow Roasted Pork Belly, Bubble and Squeak, Caramelised Apples, Kingston Black Sauce
- Pan Roasted Hake, Confit Fennel, Jerusalem Artichoke Puree, Potato Fondant, Fish Veloute
- Local Butcher's Finest Sausages, Pomeroy Mustard Mash, Roasted Onion Gravy
- Home Made Shortcrust Pie-Choice of Beef and Ale of Chicken, Leek and Bacon served with Mash and Traditional Gravy

Puddings
- Sticky Toffee Pudding, Toffee Sauce, Walnut Brittle, Vanilla Ice Cream
- Apple Rosti Tart, Blackberry Coulis, Chantilly Cream
- Warm Chocolate Brownie, Chocolate Sauce, Clotted Cream
- Autumn/Winter Eton Mess, with Hazelnut Meringue and topped with Whipped Cream, Blackberries, Wild Damson Puree & Caramelised Apples
- Pear and Amaretto Crumble Cake, Vanilla & Stem Ginger Ice Cream
- Spiced Crème Brûlée, Honey Baked Apples, Cinnamon Shortbread
- Trio of Miniature Puddings



---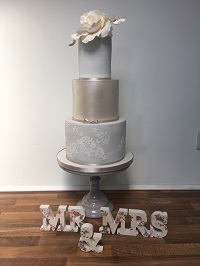 Oh-so tasty
Q. For our winter wedding we want a wedding cake and dessert table. What flavours would reflect the festive season?
A. Kelly Days says: Winter weddings are truly wonderful with beautiful Christmas decorations, twinkling lights and servings of mulled wine.

When it comes to cake flavours we offer a wide variety, winter bakes tend to focus on rich and decadent flavours such as salted caramel, chocolate orange or red velvet.

In addition to this, we've created flavours for adult guests including champagne and strawberry; gin and tonic; strawberry daiquiri; and Pimm's.

In terms of decoration we've noticed a move away from the more traditional colours of green and red, with elements of metallic and lustre coming in. The use of gold, silver, blushes and blues are all making an appearance in cakes we're designing for 2016 winter weddings.

Dessert tables make a wonderful choice for any wedding breakfast as it provides a variety of choice to all your guests both big and small, with children particularly loving cupcakes and cake pops.

Naked cakes continue to be popular and mean that you can use touches of gold and silver, seasonal fresh flowers and berries to complement all the finer details on your special day!


---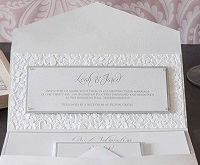 New year, new designs
Q. Although we're tying the knot in January we want to avoid all-things festive. What type of invites could we go for to wow our guests?
A. Gaynor Page says: I've done several weddings for January and early spring and in all cases white has been the base colour of choice as it's crisp and fresh.

Wallets have been a popular style and continue to be so but couples can make them bespoke with the decorative elements.

This image showcases 'Pebble' in white, and can be designed with or without hearts, which can be in colour should you wish to introduce an accent hue.
---
Contact our experts...

Caroline Gent
Caterer

Gaynor Page
Stationer

Jacky Badenhorst
Photographer

Jayne Wolstenholme
Menswear specialist

Kelly Days
Cake designer
---