Ask the experts
Here is a selection of Q&As from Your Bristol and Somerset Wedding magazine. If you would like your question answered by our experts, please email it to editor@yourbristolsomerset.wedding.
To view more Q&A's on a different topic, please select one from the list below.
Hot topic: Spring weddings
Our experts solve your wedding dilemmas
---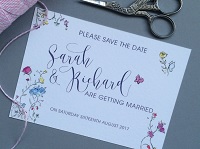 Planning ahead
Q. When planning the big day, how soon in advance should we send out our save-the-dates and invites, how much detail do we reveal in each?
A. Daisy Foster says: I suggest sending out the save-the-date cards when you've confirmed your wedding date and venue. This allows your guests to mark it in their diaries as soon as possible, especially if your wedding is going to fall over a busy period, such as school holidays and big seasonal events. Include the date and county/town of the big day, rather than anything else at this stage, just to whet their appetites!

When it comes to sending out your formal invitations, this is traditionally done no later than six weeks prior to the big day. However, it's more common nowadays, to send them out at least three months in advance to allow guests to book into nearby accommodation and make their travel arrangements as early as possible. Within your invitations, we suggest including a reply card, together with an information card, noting down details your guests may need to plan their itinerary for the day.

Our information cards typically include helping tips on getting there, where to stay, and local taxi telephone numbers. This is also the opportunity to let your guests know about present-giving details, for instance if you have a gift list somewhere or you'd like vouchers or money for your honeymoon.
---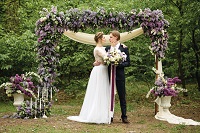 Al fresco romance
Q. We're tying the knot al fresco and were wondering how we could decorate the ceremony area?
A. Helen Hopkins says: I love outdoor ceremonies and there are so many options for fantastic locations now! When planning your nuptials al fresco I always think it's a great idea to add a stunning backdrop behind your ceremony. It creates a focal point to this part of the day, and adds an element of decorative detail that guests won't expect. Plus, the images you get afterwards are simply amazing!

Think about your surroundings, do you want to completely contrast these or have something that blends into the landscape or space. Holding an urban wedding? Why not add a floral arch filled with amazing blooms and foliage, the contrast would be so stunning. Perhaps your having a wedfest with an outdoor ceremony in a forest. Think about constructing a backdrop of brightly coloured ribbons which will flutter in the wind. The combination of the trees and ribbon will look amazing and will be such a fun addition to your day.

Or maybe your day has a ceremony planned in a totally open space in the countryside, add a faux pair of rustic barn doors to create a totally different texture to the landscape - but one that fits perfectly.

There are so many options and I promise you won't be disappointed!
---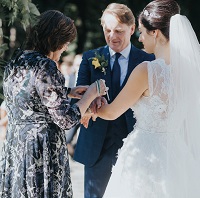 I do!
Q. The type of wedding we want isn't suited to an official ceremonial procedure, what alternative ways are there to tie the knot?
A. Sue Williamson says: It could be that you want to get married in the same spot as your proposal, or your first picnic together, or another location that has special meaning. Imagine the romance of your wedding ceremony in the woods amongst the bluebells, on a beach, on a mountain top or even in your own garden!

If you have both decided to get married in a church – that's great! But what if one of you has a different belief and a church wedding is not entirely appropriate or not possible? Then you will probably decide on a licensed venue with a registrar to conduct your ceremony. If this is the case, and if you were hoping to make reference to either of your beliefs as part of your ceremony or include cultural traditions, then you will be in for a big surprise. A registrar will not include any religious or spiritual content whatsoever! Your music will be limited, as will your readings and time.

You do have another alternative, a celebrant. More and more couples are fulfilling the simple legal obligations at a registry office, which takes 10 minutes at a small cost, and then having the personalised ceremony afterwards.

If you, like many brides- and grooms-to-be, want heartfelt nuptials as an alternative to the 'uniformed' ceremony; then you need an independent celebrant so that it can be held anytime, anyplace and without the restrictions of personalisation.
---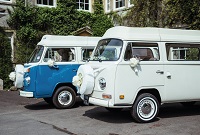 Happy campers
Q. Our summer wedding has a fun, relaxed vibe and we were wondering what you suggested to complement this in terms of wedding transport?
A. Jo Bateman says: Be different and book a lovely classic VW Campervan! Lily, is a refurbished white 1971 VW Campervan – she looks stunning in photographs – and her new interior has a curved seat allowing plenty of room for the wedding dress and bridesmaids, not forgetting the father-of-the-bride or new husband!

Alternatively, Enola is a 1974 VW Campervan in blue and white making an ideal second vehicle for the larger wedding party, or for the groom and ushers. Lily and Enola will soon be joined by Lois, a 1967 Split Screen VW Camper – she's just going through her renovation period and will be ready for the 2018 season.
---
Contact our experts...
Daisy Foster
Stationery designer
Helen Hopkins
Wedding planner
Jo Bateman
Campervan hire specialist
---