Ask the experts
Here is a selection of Q&As from Your Bristol and Somerset Wedding magazine. If you would like your question answered by our experts, please email it to editor@yourbristolsomerset.wedding.
To view more Q&A's on a different topic, please select one from the list below.
Hot topic: Festival-style weddings
Our experts solve your dilemmas
---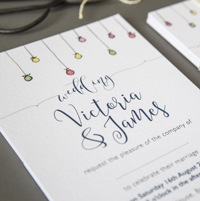 You're invited
Q. We're holding our own mini festival for our wedding. How do I hint at our theme in the invitations and then carry it through the stationery on the day?
A. Daisy Foster says: A festival is such a wonderful theme for your nuptials! After all, music, dancing and feasting is what weddings are all about! Your style of invitations and on-the-day stationery can really complement this vision.

Set the tone with something bright and vibrant, our 'Festoon of lights' watercolour illustrated range would make perfect invitations for a country festival vibe. I love this design; it implies a magical, musical wedding, brimming with festoons of pretty lights hung from trees, marquees and across a stage for a band. The modern calligraphy font for this range is so on-trend and looks beautiful carried through to your table plan, painted wooden signs and place settings.

We also offer an affordable bespoke option. Why not commission a brand new range of stationery to truly reflect your big day? You could incorporate your initials in a lovely font, set on fluttering flags and swathes of bunting and lights.
---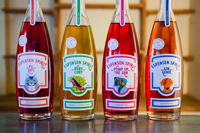 Getting in the spirit
Q. My fiancé and I met at a music festival and want to bring that theme to our big day. What kind of drinks would you recommend to create a relaxed party vibe?
A. Sam Espensen says: I've been working at festivals for more than 30 years and I feel the best ones appear effortlessly organised and hide the hard work behind the scenes. A great festival also uses niche or locally-sourced products and this can be applied to your wedding.

If chosen wisely, wedding drinks can be versatile, value for money and also good fun. First of all, choose a champagne or prosecco cocktail as your welcome drink and for toasts. All of our infused drinks taste great in a glass of bubbly and we have something for everyone's taste – from blueberry gin to rhubarb and custard vodka.

For your theme I'd serve brightly-coloured drinks in sturdy, biodegradable plastic glassware. You could use glowsticks as drink stirrers – just make sure your guests don't chew them!

I'd recommend choosing cocktails that allow you to prepare syrups and ingredients in advance, this saves time on the day and you won't need as much bar space.

Shots can be downright unpleasant to drink, but they're great fun in the right circumstances and certainly add to the party vibe! We sell our 5cl bottles as wedding favours that serve as a yummy alternative to more common shots.

Lastly, I'd make the drinks as beautiful as possible to get your guests snapping Instagram-worthy pictures!
---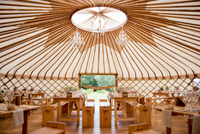 In-tents!
Q. We're considering an outdoor wedding in a tent rather than a traditional venue but we're worried about all the extra planning involved. What are the pros and cons of an outdoor wedding and who do we turn to for help?
A. Lizzie Jones says: Firstly, congratulations! Outdoor weddings are so special and because they're totally flexible you can really make them your own. My best piece of advice is to choose suppliers who are used to working on outdoor weddings. They'll understand the nature of your day from the outset and can give you lots of helpful information and recommendations. They can also remind you of anything you may have forgotten.

The most important supplier for this kind of event is the company providing your yurt, tipi, tent or marquee. At Wedding Yurts we spend the week before your wedding setting everything up and we can deal with any issues for you. We manage the styling, coordinate the whole day and our cocktail bar always makes the world a better place!

Planning an outside wedding can be more challenging than planning a traditional affair but they're so wonderful and personal that with the right team on board, you'll be so glad you chose to get outdoors.
---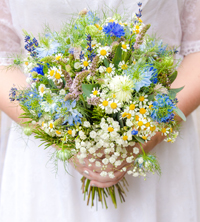 Wild and beautiful blooms
Q. I've seen some loose, rustic bouquets that would be perfect for my tipi wedding. What flowers would you recommend to create this look?
A. Lisa Elliott says: You'll want to create a rustic, informal feel to the day that can be reflected in your flowers. I'd suggest meadow blooms that you would typically find in gardens and hedgerows over the summer months. The romanticsounding dill (known as Queen Anne's lace) and Nigella (known as love-ina- mist) would work beautifully alongside pretty white daisies, blue cornflowers and gypsophila, which is still very much en vogue. You can also incorporate gorgeous herbs such as lavender, rosemary, thyme and sage. I'd use these to create an informal, natural bouquet tied with garden twine or raffia.

My best piece of advice would be to keep it simple – a small number of blooms will give you a just-picked look. Carry the theme through the rest of your styling with hay bales, wooden crates, milk churns and even your old wellies filled with flowers!
---
Contact our experts...

Daisy Foster
Stationery designer

Lisa Elliott
Florist

Lizzie Jones
Owner of Wedding Yurts

Sam Espensen
Co-founder of Espensen Spirit
---