Ask the experts
Here is a selection of Q&As from Your Bristol and Somerset Wedding magazine. If you would like your question answered by our experts, please email it to editor@yourbristolsomerset.wedding.
To view more Q&A's on a different topic, please select one from the list below.
Hot topic: Wedding planning
Our experts solve your dilemmas
---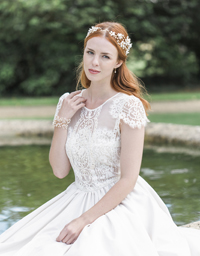 Bohemian dreams
Q. I've chosen a beautiful soft, flowing wedding dress. What accessories should I choose to complement a boho-chic look?
A. Hermione Harbutt says: For this style I'd suggest a floral, floating piece to complement the relaxed vibe you're looking to achieve. A soft garland shape worn either across the forehead or sitting on top of the hair in a pretty circlet would work perfectly. We find our boho brides tend to wear their locks long and loose or softly pinned up so something like our Violette garland would secure easily in to the hair or our dainty Seraphine headpiece would look stunning with its pretty pearl blooms and organic feel.

For a more daring bride I'd suggest a splash a colour; pastels would look wonderful with this style, as would a champagne tone or vintage dark gold. Complete the look with a matching bracelet for all-out bohemian beauty.
---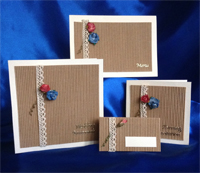 Be our guest
Q. Our wedding day is going to be full of personal touches and décor to reflect my fiancé and I as a couple. How do we choose a style of invitation to give our guests a hint of what's to come?
A. Gaynor Page says: Try using your colour scheme throughout all of your stationery. When your guests receive their invite it will give them just a hint of what's in store. I'm often asked to reflect the couple's venue décor in their invitations. After a recent consultation with a happy couple and their venue stylist we opted for a stunning teal design incorporating bunting and birdcages that were to feature on the day.

If you're having a rustic country theme then try earthy colours with corrugated card decorated with roses. You can give a nod to your theme as much or as little as you like, there really are no hard and fast rules now so don't be afraid to go for something creative and truly personal.
---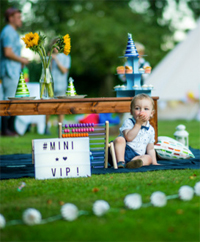 For the little ones
Q. We have a lot of guests with young children. We really want them to be there but are worried about how to entertain them all day – especially during the speeches! What do you suggest?
A. Danielle Edwards says: There's no doubt about it – children can really make weddings. It also means your mummy and daddy guests will be able to stay longer celebrating with you as there's no rushing home for the babysitter!

It's always a good idea to plan some entertainment and create a child-friendly space in advance before the little ones get bored. It can be a real time-saver to bring in the professionals, after all, who has time on their wedding day to be organising party bags, balloons, bunting and a fancy dress box?

At Pitch Up and Play we offer bespoke childcare and play dens for weddings and events, we make sure we organise a great party for your mini VIPs. This leaves you more time to celebrate with your friends and family and relax in the knowledge that your littlest guests are having a fantastic time.
---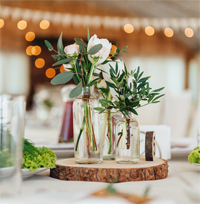 Style your day
Q. We're dressing our venue ourselves on our wedding day. How can I achieve a look that's stunning but takes minimal setting up?
A. Candida Leaver says: As the owner of a boutique wedding venue we've got lots of experience in creating a successful atmosphere for your big day. An easy way to really set the scene is with beautiful lighting; try white fairylights hung up on walls and windows. You could consider switching off overhead lighting and opt for freestanding lamps instead – just make sure your loved ones can still see their food!

A single, showstopping floral centrepiece on each table will look amazing with little set-up; choose short-stemmed blooms so it doesn't obstruct conversation across the table. A seasonal, organic floral look can be achieved with rustic foliage and cottage garden flowers.

Another aspect to think about that will instantly enhance your theme is tableware such as table cloths, napkins, cutlery and crockery – are you colour coordinating or creating a more mix-and-match vintage look? The most important piece of advice is to plan in advance to save as much time and stress on the day as possible!
---
Contact our experts...

Candida Leaver
Venue owner

Danielle Edwards
Child care

Gaynor Page
Stationer

Hermione Harbutt
Hermione Harbutt, Accessories designer
---