Why you should buy issue 67 of Your Bristol and Somerset Wedding magazine...
October/November 2018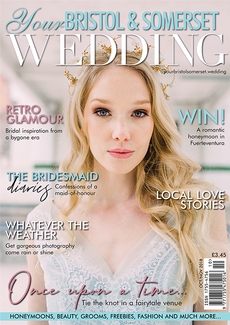 Fuerteventura competition
Win a romantic honeymoon in Fuerteventura worth £1,900
Rustic romance
Claire and Mark planned the perfect laid-back day at Quantock Lakes
Autumn leaves
Stacey and Myles looked to nature for their inspiration
Truly romantic
Priston Mill was the pretty backdrop for Emma and Michael's nuptials
Local lovelies
Tie the knot in Bath and Mendip
Once upon a time...
Our pick of the region's fairytale settings
Feeling right at home
Enjoy a feast for the senses at Ston Easton Park
Whatever the weather
How to get gorgeous photography, come rain or shine
Handmade in Bristol & Somerset
You don't have to look far for beautiful w-day products
Wuthering Heights
Fall in love with this atmospheric styled shoot
The bridesmaid diaries
Editor Hannah Faulder charts the highs and lows of being chief bridesmaid for her best friend
Movie-star magic
This season's bridal dresses have taken Hollywood glamour to the next level
Fabulous fishtails
This style never goes out of fashion
Lip service
Pucker up with these products
eMagazine
Available to download NOW for only £1.49
Printed Copy
(inc. free eMagazine)
In Stock
Click here to use our online ordering service
---
Buy a copy
There are 5 different ways to buy Your Bristol and Somerset Wedding magazine.
Click here to view some sample pages from an eMagazine
To order the latest copy of Your Bristol and Somerset Wedding magazine or to obtain back issues, click here.
Alternatively call us to order your copy, post-free for just £3.45, on 01376 514000
Read Your Bristol and Somerset Wedding magazine in electronic format for just £1.49 per copy (Smartphone and Tablet compatible) click here
You can subscribe for just £17.60!
Annual subscription (6 issues)
Save over 15% off the normal cover price
FREE postage and packing
Receive each issue as soon as it is published
To order your subscription, simply call us on 01376 514000 or click here
Alternatively, click here to order an eSubscription for just £7.60
4. Buy a copy from a retail outlet
Your Bristol and Somerset Wedding magazine is available from newsagents and supermarkets.
However, if you do have problems, or if your newsagents has sold out, then call us!
We'll send your copy to you post-free for just £3.45 inc P&P. Simply call us on 01376 514000
5. Overseas Orders
For non-UK customers, please email admin@county.wedding for full details.
---