Why you should buy issue 65 of Your Bristol and Somerset Wedding magazine...
June/July 2018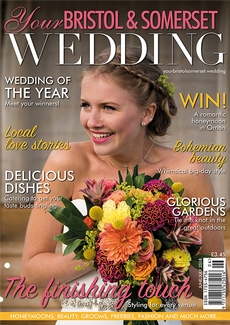 Oman Competition
Win a romantic honeymoon in Oman worth £3,000
Debenhams Travel Package Competition
Win a travel package courtesy of Debenhams worth £1,050
The finishing touch
Styling tips for every venue
Delicious dishes
Catering to get your taste buds tingling
Local lovelies
Our pick of Sedgemoor and North Somerset venues
Life's a beach
Louise Prance discovers the beauty of Tenerife and what makes the new Royal Hideaway Corales Beach hotel such an appealing getaway destination
The black pearl of the Atlantic
With dramatic landscapes and moonlike terrain, Liz McIntyre explores the softer side of Lanzarote
Timeless elegance
Poppy and Jay's stunning wedding was set against the backdrop of Macdonald Bath Spa Hotel
A perfect day
Olivia and Alice's nuptials were accented with a pink and gold colour palette
Boho bride
Soft layered chiffon, ethereal lace and delicate tulle are this season's key dress styles
The fabulous 40's
Bridesmaids' styles influenced by this famous decade
Clean on me
Embrace the green trend with these natural hair and beauty products
Freebies & offers
Great giveaways and discounts up for grabs
The to do list
Navigate your wedding journey with our 12-month plan
Glorious gardens
Tie the knot in the great outdoors
Animal-antics
Give your wedding the pet-factor with these quirky accessories
Mum's the word
We showcase a selection of spring styles for the mother-of-the-bride in soft muted colours with delicate lace, frills and subtle floral prints
eMagazine
Available to download NOW for only £1.49
Printed Copy
(inc. free eMagazine)
In Stock
Click here to use our online ordering service
---
Buy a copy
There are 5 different ways to buy Your Bristol and Somerset Wedding magazine.
Click here to view some sample pages from an eMagazine
To order the latest copy of Your Bristol and Somerset Wedding magazine or to obtain back issues, click here.
Alternatively call us to order your copy, post-free for just £3.45, on 01376 514000
Read Your Bristol and Somerset Wedding magazine in electronic format for just £1.49 per copy (Smartphone and Tablet compatible) click here
You can subscribe for just £17.60!
Annual subscription (6 issues)
Save over 15% off the normal cover price
FREE postage and packing
Receive each issue as soon as it is published
To order your subscription, simply call us on 01376 514000 or click here
Alternatively, click here to order an eSubscription for just £7.60
4. Buy a copy from a retail outlet
Your Bristol and Somerset Wedding magazine is available from newsagents and supermarkets.
However, if you do have problems, or if your newsagents has sold out, then call us!
We'll send your copy to you post-free for just £3.45 inc P&P. Simply call us on 01376 514000
5. Overseas Orders
For non-UK customers, please email admin@county.wedding for full details.
---