Ask the experts
Here is a selection of Q&As from Your Bristol and Somerset Wedding magazine. If you would like your question answered by our experts, please email it to editor@yourbristolsomerset.wedding.
To view more Q&A's on a different topic, please select one from the list below.
Hot topic: Winter wedding worries
Our experts solve your dilemmas.
---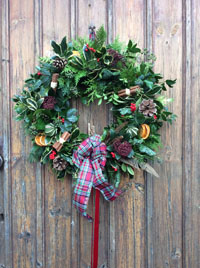 The holly and the ivy
Q. We're having a festive-themed wedding at a beautiful country hotel. We don't want to go over the top with the theme so what flowers would work best to give a subtle Christmas feel?
A. Wendy Symes says: This is such a magical time of year to get married and with all the glitz of lights and decorations I can understand you don't want to go for all-out Christmas with your floral displays. My suggestion would be to incorporate plants that give a subtle nod to the time of year. Think blue spruce, holly and twisted willow, combined with berries, cones and ferns. For the more adventurous why not try sprayed gold pineapples with cinnamon and dried oranges for a beautiful aesthetic and subtle aroma? Small amounts of seasonal flowers can be nestled in to the displays such as amaryllis, wax flower and poinsettia.
---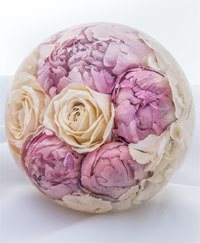 Lasting memories
Q. We have such beautiful flowers booked for our wedding day it seems such a shame to throw them away afterwards. I've heard of flower preservation but how does it work?
A. Rachel Ruddle says: The perfect way to cherish the unforgettable memories of your special day is by enclosing your bridal flowers in to a bespoke handmade paperweight. Crafted in the rural town of Somerton in Somerset, we can preserve your blooms up to seven days after the event but fresher flowers give the best results in the preservation process. We're members of the Guild of Master Craftsmen so you can rest assured your precious items are in good hands.
---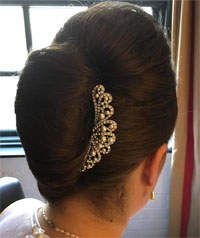 Luscious locks
Q. I'm getting married in December and having an elegant black-tie affair. I have long straight hair and don't know what style is best suited to wintry weather?
A. Sam Dare says: My advice would be to make sure you discuss with your hairdresser what you want well in advance of the big day – at least eight weeks. Go along to your hair trial armed with pictures of your dress and any accessories you're planning on wearing so you can try out different looks. Make sure you take photos and go away feeling confident in the style you've chosen. Try keeping your hair up for the rest of the day so you can see how well it lasts and whether you want to make any changes.

For your theme I'd suggest a sleek, part-up-partdown style, or for a more weatherproof option a timeless up do by an experienced hairdresser will mean you can relax knowing your hair won't budge all day.
---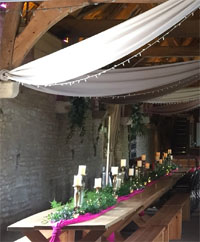 Style your day
Q. I'm getting married in a rustic barn in winter but can't decide how to style it. What do you suggest to make our venue feel warm and cosy?
A. Radhika Nathwani says: This is a wonderful choice of venue because it'll already have beautiful original characteristics so the trick is enhancing these with your décor to create a warm haven on a cold winter's day.

Barns tend to have high-vaulted ceilings so adding some drapes with festoon lighting would create a cosier atmosphere without covering its features. Uplighting around the room in a warm colour will give you a soft glow.

Candles and tealights will give a dreamy ambience and can be incorporated in to many areas of the styling including your entrance, centerpieces and cake table. In terms of colour, deep red, plum and gold will all work perfectly and can be injected through all elements of your day such as flowers, chair covers and tableware.
---
Contact our experts...
Radhika Nathwani
Owner and creative director
---