Ask the experts
Here is a selection of Q&As from Your Bristol and Somerset Wedding magazine. If you would like your question answered by our experts, please email it to editor@yourbristolsomerset.wedding.
To view more Q&A's on a different topic, please select one from the list below.
Hot topic: Big-day themes and hen do inspiration
Our experts solve your dilemmas
---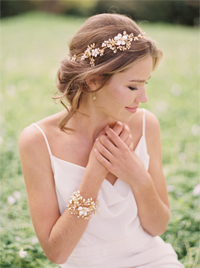 Timeless elegance
Q. I've chosen a simple gown in ivory silk. I'm now worried it'll look too plain in our country house venue, what can I choose to accessorise it?
A. Hermione Harbutt says: With an elegant gown that's all about the fit and fabric, you can really experiment with your accessories. A showstopping piece that complements your outfit can become the statement element of your overall look.

If your dress has an open or low back, you could opt for an embellished back necklace to add an unusual point of interest. With our bespoke options you can incorporate elements to suit your style.

A headpiece will give your gown an instant lift. Our Florrie headdress features ivory floral details to match the dress, while giving the effect of a glamorous jewelled flower crown. Gold and champagne tones would marry beautifully with a stately home setting – our Floriana range is the epitome of country-luxe. Pretty hairpins are a more versatile option as they can be clustered together or decoratively woven through the hair to add sparkle to a pared-back look.

For real wow factor, a confident bride may opt for a statement crown. The dramatic presence of this hair adornment will ensure that no matter how simple your gown, you'll shine on your special day.
---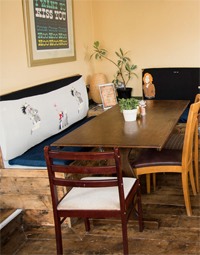 That's the spirit
Q. I'm looking for ideas for my best friend's hen do. She absolutely loves cocktails, but I'd like to arrange something more memorable than just going to a bar. What do you suggest?
A. Sam Espensen says: We definitely do things differently at Bristol Spirit. It has a relaxed, friendly atmosphere and it's never over-crowded. We're female-owned and designed to make women feel totally at home.

Why not come along for a cocktail-making class and try your hand at mixology? You can even create your own drinks to serve at the wedding, or have as favours. Maybe you'd prefer to just enjoy a tasting session with our range of infused spirits?

It's not all about the gin and vodka; we have several low-alcohol options so you can enjoy a few without getting too tipsy. Our mocktail range means the non-drinkers won't feel left out, and if anyone is having a bit too much fun they can be bought one of these instead to make sure everyone has a great time. With our big screen showing your favourite film, and our awesome in-house DJ, we can cater to anyone's taste. Most importantly, our toilets are spotless and warm – how many bars can say that?
---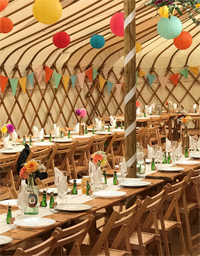 All the trimmings
Q. We're having a multicoloured summer wedding in a marquee. How do we inject our bright colour scheme on to this blank canvas?
A. Catherine Cooke says: Every couple wants their nuptials to reflect their personalities, and make it memorable for their friends and family. With a bit of imagination, and some preparation and planning, the options are endless.

Start by creating a spectacular entrance with a ribbon curtain. One of our customers recently had an enchanting doorway in to their adorned marquee using soft tones of orange, turquoise and yellow. Draped pom pom trim is ideal for obscuring marquee supports and vibrant wide satin ribbon looks lovely wrapped around tent poles and beams. Bunting is a must for a summer wedding and can be made in any colour to brighten up your blank-canvas space. Paper lanterns are a cost-effective way to add a fun and cheerful aesthetic.

The little details are also important. Why not tie burlap twine bows around your glasses and lace bows around the chairs? The end result will be a quintessentially chic venue with lashings of charm.
---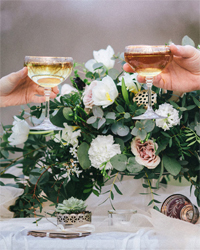 A spring in your step
Q. We're having a spring wedding with a botanical theme but I don't know where to start with the venue styling, please help.
A. Sue Manfield says: I love this season! After winter it's wonderful to see the blossom and magnolia trees in full bloom and the weather getting warmer. A botanical theme is perfect for springtime nuptials.

I'd recommend styling that's soft and layered, with a mix of tones and a hint of sparkle. White linen tablecloths or bare trestles are ideal for a natural look. Dress tables with ivy, and nestle in simple glass votives, gold candlesticks, and foliage-filled brass lanterns. Fill small terrariums with spring flowers for on-trend centerpieces. I love succulents in tiny terracotta pots as favours, or place settings written on cute seed tags.

Candles dotted around the venue will create a magical atmosphere, while a feature blossom tree would bring the ambience of the outside in.
---
Contact our experts...
Catherine Cooke
Stationer
Hermione Harbutt
Hermione Harbutt, Accessories designer
Sam Espensen
Co-founder of Espensen Spirit
Sue Manfield
Venue stylist
---