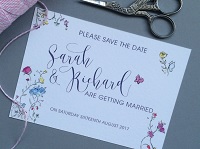 Planning ahead
Q. When planning the big day, how soon in advance should we send out our save-the-dates and invites, how much detail do we reveal in each?
A. Daisy Foster says: I suggest sending out the save-the-date cards when you've confirmed your wedding date and venue. This allows your guests to mark it in their diaries as soon as possible, especially if your wedding is going to fall over a busy period, such as school holidays and big seasonal events. Include the date and county/town of the big day, rather than anything else at this stage, just to whet their appetites!

When it comes to sending out your formal invitations, this is traditionally done no later than six weeks prior to the big day. However, it's more common nowadays, to send them out at least three months in advance to allow guests to book into nearby accommodation and make their travel arrangements as early as possible. Within your invitations, we suggest including a reply card, together with an information card, noting down details your guests may need to plan their itinerary for the day.

Our information cards typically include helping tips on getting there, where to stay, and local taxi telephone numbers. This is also the opportunity to let your guests know about present-giving details, for instance if you have a gift list somewhere or you'd like vouchers or money for your honeymoon.