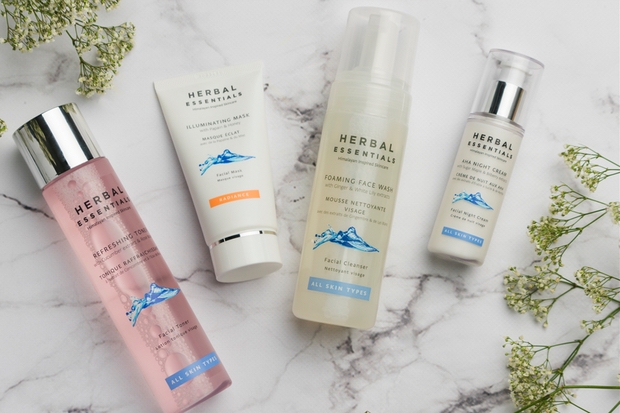 It's no secret that water is essential for a healthy, glowing complexion but did you know that when it comes to skincare, not all water is created equal?

Thermal and spa waters are known to help alleviate dry, sensitive and inflamed skin mainly through the actions of essential minerals present in these waters.

However, it is important to note that not all thermal and spa waters have the same beneficial effects on skin mainly due to the differences in the compositions of these minerals dependent on where the water originates.

Himalayan Spring Water is the thermal water which forms the central ingredient in the award-winning Herbal Essentials range, sourced directly from the foothills of the mountains. It is an active ingredient and its unique blend of skin conditioning minerals, in particular calcium, magnesium and potassium, helps improve skin regeneration in order to have more plump, supple and uniform-healthy looking skin.

Introducing The Himalayan H2O Heroes: All of the range including our Moisturisers, Masks & Exfoliators contain Himalayan Spring Water but the following products have a greater content thus boosting skin renewal which we have called our Himalayan H2O heroes. A range of benefit driven products, blended with Himalayan Spring Water and natural essences to leave skin radiant.

Micellar Water £13/200ml Purify skin with this multipurpose Micellar water, bursting with the benefits of Himalayan Spring Water and a blend of pro-vitamin B5 and betaine to gently soothe and calm.
Foaming Face Wash £18/150ml The Himalayan Spring Water in Herbal Essentials Foaming Face Wash utilises the natural cleansing power of botanical extracts of White Lily, together with the invigorating properties of Ginger to leave skin radiant. Refreshing Toner £15/150ml Cucumber Extract and Rose Damascena Flower Water revitalises, calms and provides long lasting hydration in this refreshing toner.
Purifying Face Wash £14/100ml Neem extract which helps brighten skin and hyssop a natural pore refining cleanser, are blended with Himalayan Spring Water in this purifying wash, suitable for breakout prone skin.
Purifying Toner £15/150ml This purifying toner uses Neem extract to control excess oil and peppermint oil to cool and calm sensitive skin; blended with Himalayan Spring Water to leave skin revitalised.

In keeping with Herbal Essentials strong commitment to preserving the environment, all packaging is recyclable, with bottles composed of glass polymer rather than plastic.

Discover the power of Himalayan Spring Water in Herbal Essentials Skincare Collection available from Amazon and on www.herbal-essentials.com


SILKUP has launched its first product; the Luna, a silk hair wrap that protects hair while sleeping!
ELEMIS has introduce two new additions to its day to night Peptide 24/7 skincare range.
Gorgias London's Honey & Rosehip Oil Moisturiser is perfect for those looking for an intensive and soothing product.