Why you should buy issue 68 of Your Bristol and Somerset Wedding magazine...
December/January 2018/2019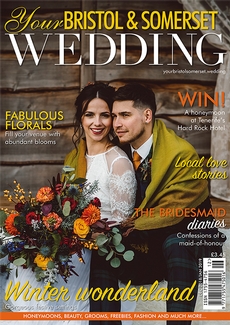 Tenerife competition
Win a three-night honeymoon at Tenerife's Hard Rock Hotel, worth £1,750
Festive fiesta
Berwick Lodge was the wintry backdrop for Neneh and Scott's big day
Merry and bright
Hayley and Andy captured a warm Christmas spirit for their nuptials
The winning formula
Harriet and Michael had an athleticsthemed wedding to reflect how they met
Winter wonderland
Tie the knot in a festive setting
Local lovelies
Our pick of South Somerset venues
Fabulous florals
Beautiful blooms for every season
Bake off!
Local cake designers share their 2019 trend predictions
A winter's tale
Feast your eyes on this gorgeous collaborative shoot, full of quirky Christmas styling
The bridesmaid diaries
Hannah Faulder charts the highs and lows of being chief bridesmaid for her best friend
#trending
We showcase the dress trends to expect in 2019
Frivolous feathers
Dress up in a fun and flirty number
All that glitters
It's time to sparkle in this selection of the latest bridal accessories
Mask-erade
Bring back the life to your skin with these fabulous face masks
eMagazine
Available to download NOW for only £1.49
Printed Copy
(inc. free eMagazine)
In Stock
Click here to use our online ordering service
---
Buy a copy
There are 5 different ways to buy Your Bristol and Somerset Wedding magazine.
Click here to view some sample pages from an eMagazine
To order the latest copy of Your Bristol and Somerset Wedding magazine or to obtain back issues, click here.
Alternatively call us to order your copy, post-free for just £3.45, on 01376 514000
Read Your Bristol and Somerset Wedding magazine in electronic format for just £1.49 per copy (Smartphone and Tablet compatible) click here
You can subscribe for just £17.60!
Annual subscription (6 issues)
Save over 15% off the normal cover price
FREE postage and packing
Receive each issue as soon as it is published
To order your subscription, simply call us on 01376 514000 or click here
Alternatively, click here to order an eSubscription for just £7.60
4. Buy a copy from a retail outlet
Your Bristol and Somerset Wedding magazine is available from newsagents and supermarkets.
However, if you do have problems, or if your newsagents has sold out, then call us!
We'll send your copy to you post-free for just £3.45 inc P&P. Simply call us on 01376 514000
5. Overseas Orders
For non-UK customers, please email admin@county.wedding for full details.
---