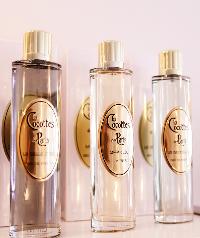 Scent-sational
Q. I'd love to get my bridesmaids a really personal gift to remind them of my big day - what do you suggest?
A. Maria Kabakova-Upfold says: Fragrance has the power to transport you back to a certain time and place. Familiar scents activate memories that are emotional and vivid – whether that's a perfume, candle or favourite flower.

I'd suggest investing in a fragrance that your best girls can wear on the day and keep long after the wedding. We offer a personalised fragrance experience in store, where we help you pick a scent that pairs perfectly with your special day. You can enjoy getting together with your loved ones to go on an olfactory journey through our wonderful perfume collections, some of which are exclusively stocked in our boutique, so you know you're giving a truly special gift.
Maria Kabakova-Upfold
www.shymimosa.co.uk