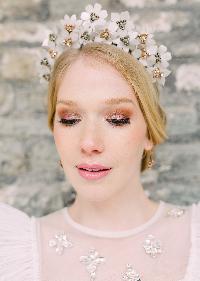 Crowning glory
Q. I have a fun tea-length dress for my summer nuptials. I don't want to wear a traditional tiara with it - what other headwear could I opt for to make a statement?
A. Hermione Harbutt says: This style of gown screams for a headpiece with presence. A colourful garland is the perfect choice of adornment with long, tousled waves or a soft up do. Our Sakura garland is a great example, featuring peony-pink blossoms against a rich gold vine. For something even bolder, why not match your headpiece with other accessories, such as a bracelet and earrings?

If you're opting for a vintage theme, then try a traditional pearl headdress to instantly transport you back to the '50s. Our Tallulah headdress looks fabulous on short hair – just add timeless pearl earrings.

If you've chosen a playful style, you might want a piece to really turn heads. For something to leave you starry-eyed, try our Galaxy headdress with rose-quartz stars or the Celestial headdress with leather star embellishment. A summer wedding is always the perfect match for whimsical butterflies and flowers.

A traditional tiara can make an impact in height but often lacks individuality. Instead, look for freshwater pearls floating on wire, different textures such as metal and leather or tonal Swarovski crystals.
Hermione Harbutt
www.hermioneharbutt.com