OUT NOW

Cover image provided by Photodabek, www.photodabek.co.uk


Real weddings
Be inspired by other brides and grooms


Mane attraction
Complement your crowning glory with a headdress, hairpiece or comb


Beauty special
The big-day makeover


The region's larder
Go local with your wedding menu


How to say 'I do'
Top tips on how to tie the knot in style


Outside the box
Local venues with a quirky twist


Havin' a lime
Francesca Lee journeys to Saint Lucia to find an island full of adventure


Little Italy
For a relaxing coastal resort not too far from home, north Sardinia holds the answer, discovers Lyndsey Hubbard


Plus...
Regular features, news, events, Q&A special - and much more
Next Issue Out
29th November 2013

Down the garden path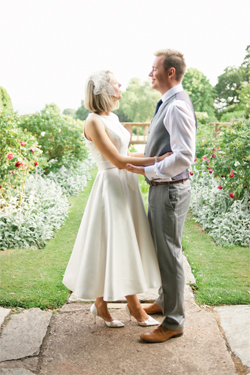 Michelle Hudson and James Hooper tied the knot on 7th July, 2013 at Hestercombe in Taunton and enjoyed a romantic big day with a classic '50s feel.

When Michelle met James eight years ago, he instantly stood out from the crowd.

"James is 6ft 4ins tall, which was the first attraction. We both realised pretty quickly after our first date that we'd be more than friends," says Michelle. "From day one, we had a strong sense of being soul mates."

One glorious September evening last year, James popped the question while they were out walking their pet pug Izzie. "The sun was setting over the sea as he proposed from the lookout tower in our home town of Clevedon," remembers Michelle.

Planned to perfection
The couple organised their day in 10 months. "Some of the most challenging aspects were finding the venue and my dress," says Michelle. They fell in love with Hestercombe at first sight.

Turn to page 44 of the current issue to read on.

Cute as a button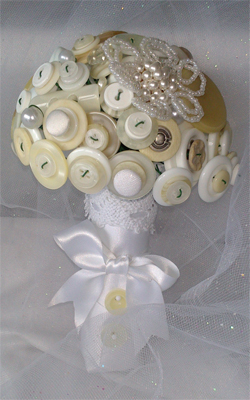 Looking for a funky alternative to traditional big-day blooms? Magical Button Bouquet is a new craft business based in Yate near Bristol, offering brides-to-be an array of handcrafted creations made from buttons in all shapes, colours and sizes. Launched this year by Hannah Jones and her fiancé Martin McGarry, the company makes button bouquets for the bride, bridesmaids and flowergirls, as well as buttonholes and other accessories to match.

"We can make them to each customer's specification and often use vintage, retro and unusual buttons and accessories for extra wow factor. The bouquets grab attention and are not only a great talking point, but can last a lifetime too," says Hannah.

Visit www.magicalbuttonbouquets.co.uk for further information.


Buy a copy for just £2.95 POST FREE
A subscription for 6 issues will cost even less at just £15!

Alternatively, if you want to read Your Bristol & Somerset Wedding on your Smartphone or Tablet you can order a complete eMagazine for just 99p

To order, please visit our website at www.yourbristolsomersetwedding.com or call us on 01376 514000




The region's larder

This issue we've been drooling over some of the locally sourced produce available to make your wedding breakfast not only fresh and delicious, but low on food miles too! To whet your appetite, turn to page 57 for a taster. Don't just take our word for it, research some of the local suppliers and catering firms in your area (our Find a Service section on the website is a handy tool) and take advantage of free tasting sessions.

Not forgetting the decor – this is your chance to put your personal stamp on the day. It doesn't matter if you're not the creative type, there's bags of inspiration available in wedding magazines such as Your Bristol & Somerset Wedding and online. Decide on your theme early on, organise a girlie night in and start putting together a moodboard of colours, props and wedspiration! Our experts show you how on page 39.

Packed full of all the regular top tips and advice, don't forget to share this fab issue with your other half too! Browse the grooms' pages together for great fashion and gift ideas, before dipping into the honeymoon guide to discover your dream destination.

Enjoy reading,



Sarah Reeve, Editor
Make sure you email editor@yourbristolsomerset
wedding.com to keep us up to date with all your news


Win a romantic wedding package worth more than £3,000!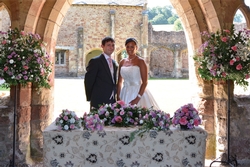 Tie the knot at Somerset's latest wedding venue, Cleeve Abbey in Washford, and celebrate afterwards in the grounds of the ancient ruins.

Cleeve Abbey, a ruined Medieval abbey set in a beautiful Somerset valley, is now available for weddings. To mark the launch, English Heritage is offering Your Bristol & Somerset Wedding readers the chance to say 'I do' in this picture-perfect setting, followed by a celebratory drinks reception. What's more, the prize includes a beautiful wedding gown from Treasured Moments in Minehead.

Couples marrying at Cleeve Abbey have exclusive use of the 12th-century site for a ceremony with up to 100 guests and can exchange vows in a choice of rooms including the Chapter House, with its stone walls and dramatic vaulted ceiling, while the Cloister, said to be the finest in England, is the ideal spot for al fresco drinks.

Bookings are now open for weddings in 2014 and beyond and private viewings can be arranged. For details call 020 7973 3675 or visit the website www.english-heritage.org.uk/hospitality

Treasured Moments is a family-run business offering a wide range of dresses to suit your shape, size, style and budget. Telephone 01643 707 074 or visit www.bridalwearsomerset.co.uk for further information.

The prize


Hire of Cleeve Abbey for two-and-a-half hours for up to 100 guests


A celebratory glass of fizz for the happy couple and each guest


A bridal gown from Treasured Moments worth up to £750, or the equivalent towards the cost of a higher priced gown
Enter here

Seasonal style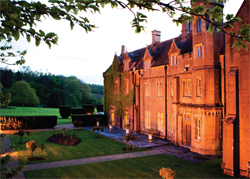 Image provided by St Audries Park, Somerset
Q We're getting married in a stately home and want to style our reception around an autumn theme. What would you suggest?

A Front of house manager at St Audries Park, Janette Wall says: Think burnt orange, red and gold colour schemes, winter Pimm's, fireworks, dried leaves for place names and candles in abundance. Style your reception around the autumn theme by having a table-plan tree instead of a traditional design. Dot birdcage candle holders around and use your venue as a backdrop for stunning photographs. Why not stay the night and enjoy a romantic walk in the autumn countryside the next day?

Contact: www.countryhouseweddings.co.uk

Hot topic: Celebrate the season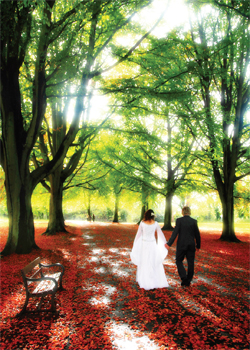 Image provided by www.photodabek.co.uk
Falling leaves

Q We're having a church wedding in early October next year and are planning to take time out after the service for some special photos together. How can we reflect the season in our wedding album?

A Photographer Martin Dabek says: Early October is the perfect time to capture all the beautiful colours of autumn. When I shoot weddings at this time of year, I always try to find a park or woods nearby as a backdrop for the photographs. Tree-lined country paths make a great setting as the falling leaves, russet tones and dappled light can look particularly stunning.

Contact: www.photodabek.co.uk








A new wedding show comes to Bristol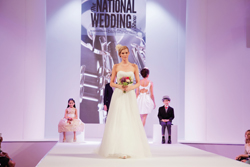 Brand new to the wedding circuit for 2014, The West of England Wedding Show is set to make its debut as the latest addition to the UK Wedding Shows. Taking place at the University of the West of England, Bristol from 8th to 9th February, 2014, it will provide West Country brides-to-be with access to more than 120 big-day suppliers all under one roof.

An impressive list of exhibitors have already confirmed for the show, including Hotel du Vin, Sandals, Smooch, Rookery Bridal and Cadbury House Hotel. And if that's not enough to tempt you, the show will also feature stunning catwalk shows with the latest bridalwear and bridal party attire.

To find out more, visit www.theukweddingshows.co.uk

Under the oak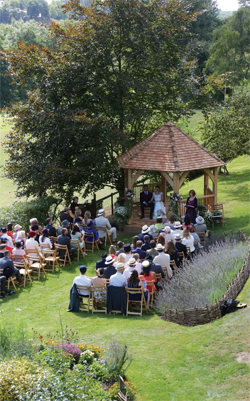 Newlyweds-to-be will be soon able to tie the knot al fresco at The Longhouse in Bruton, Somerset.

The venue's new craftsman-made oak gazebo is due to be licensed for civil ceremonies from May 2014. Set in the grounds, with stunning views of the surrounding countryside, the gazebo has already hosted its first humanist wedding. The Longhouse and its vaulted Wine Cellar are both licensed for civil ceremonies.

Visit www.longhouseweddings.co.uk for further details.

Forthcoming Events
Please note: All dates are subject to changes, contact organisers for more information before making arrangements.
To view more events, please visit the events page on our website.
The Mercure Bristol North the Grange Hotel Wedding Showcase
The Mercure Bristol North the Grange Hotel, Old Gloucester Road, Northwoods, Winterbourne, Bristol, BS36 1RP
Web: www.mercure.com
Date: Mon, 11 Nov 2013
Time: 6pm - 9pm