Georgie and Ed's day was a riot of pink and coral.
Georgie first spotted Ed playing with a diabolo in the park and was instantly drawn to his confidence and fun-loving nature. "We laughed so hard together and went on adventures," she says. "Ed used to give me piggybacks when I was feeling lazy. He was so kind and caring, which was unusual compared to other rugby players in our town!"

Six years later, the loved-up pair were feeling Christmassy after visiting Cheddar Festive Night. "When we got home I found a note by the door saying to go to the photograph of our first holiday together, and then there was a note directing me to another picture," the newlywed remembers. "This carried on as I made my way around memories of our relationship. The final note said there was a present under the tree for me." As Georgie opened the gift she was a little miffed to find cat treats in there. "I soon heard the sound of our fat cat, Dobby, running down the stairs. He jumped on my lap and I saw a ring tied around his neck; Ed then got down on one knee," she gushes. "Throughout his whole lovely speech, Dobby was trying to get in to the bag of treats!"

The couple set the date for 21st June, 2018, at the picturesque Old Down Estate. We caught up with the bride to find out how they planned their summer spectacular…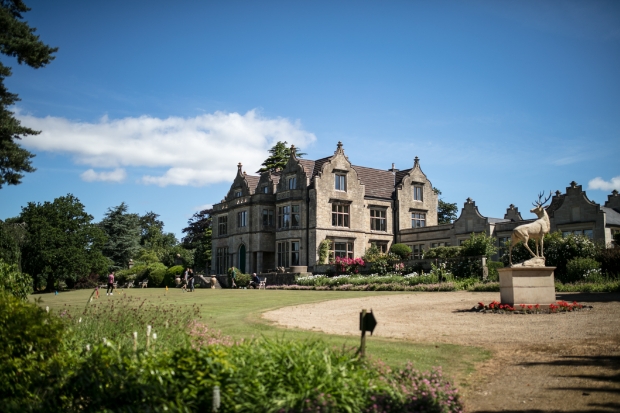 The venue ticked all our boxes. It was light, airy and modern with pretty gardens bursting with flowers. As massive animal lovers, we were so excited to see they had lots of furry friends that could be a part of our wedding. I have lots of Welsh family, so I liked that there's a view of the Severn Bridge from the lawn.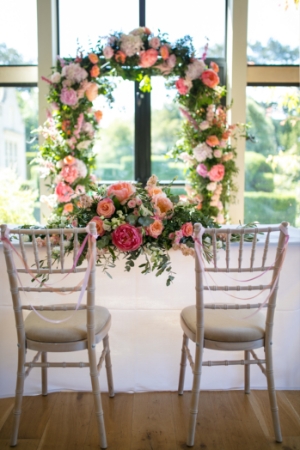 We opted for a bright and summery palette of pink and coral. We wanted the room to look like a cottage garden in full bloom, and it really did. The colourful flower arch was one of my favourite aspects of the day; it felt so magical sitting underneath it.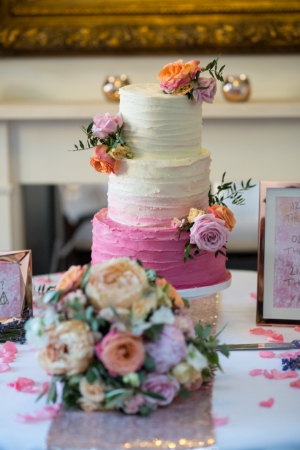 Our cake, made by The Cuppa Cakery, was made up of three delicious tiers decorated with pink ombré icing and flowers to match our floral displays.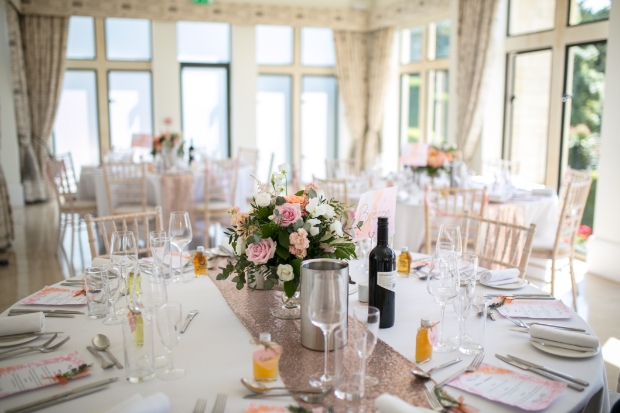 The favours were a variety of mini bottles of alcohol, which we tried our best to match to our guests' favourite drinks. We had great fun making the name tags the day before.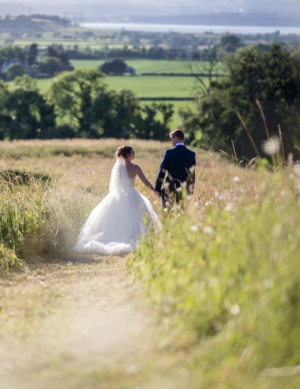 I wanted a princess-style dress as there are so few occasions you get to wear a gorgeous gown with a long train. It was also important that my legs were free so I could dance. I went to six shops, each time taking someone with me whose opinion I valued. In the end, I fell for the stunning Harriet by Ronald Joyce.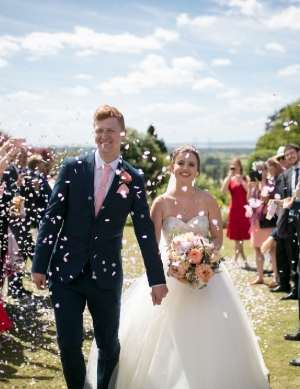 My sister and friend created our seating plan on a mirror and decorated it with complementing flowers. We named each table after a type of gin because we've had many a great memory that started with it!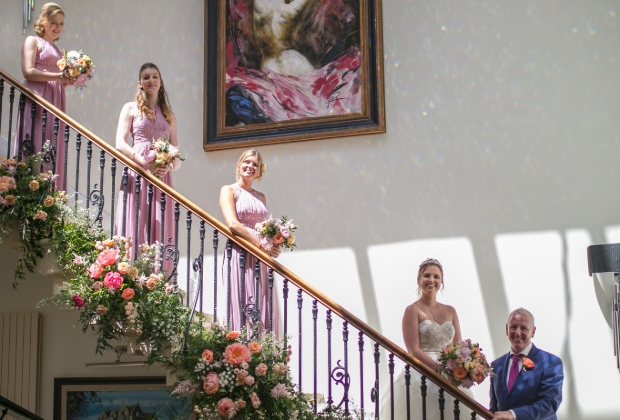 The groom wore a navy suit from Next with a skinny pink tie to fit the theme. Choosing the bridesmaids' dresses was really difficult, as they're all different heights and sizes – I'm glad I started looking early. Eventually, we found beautiful dusky pink maxi dresses.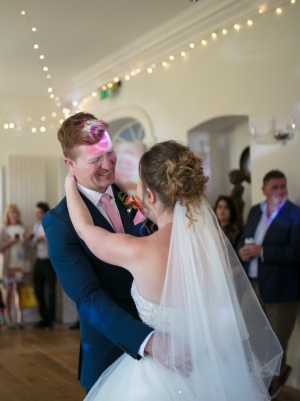 We kept our friends and family entertained with free-flowing drinks, a croquet set and giant Jenga. It was such a glorious day, so everyone was outside enjoying the sunshine. A pianist performed during the drinks reception, and in the evening we got the party started with a DJ playing classic hits from the '90s and '00s.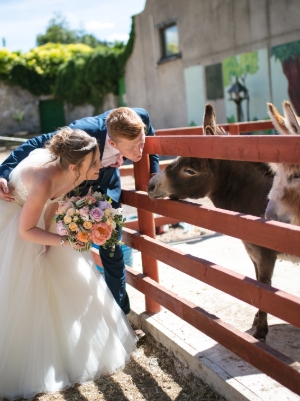 There was so much laughter throughout the day; whether it was the pony trying to eat my bouquet or when my maid-of-honour went the wrong way at the end of the aisle. My garter also fell down at one point, and Ed wore it as a headband. Everywhere we looked, people were smiling and having fun.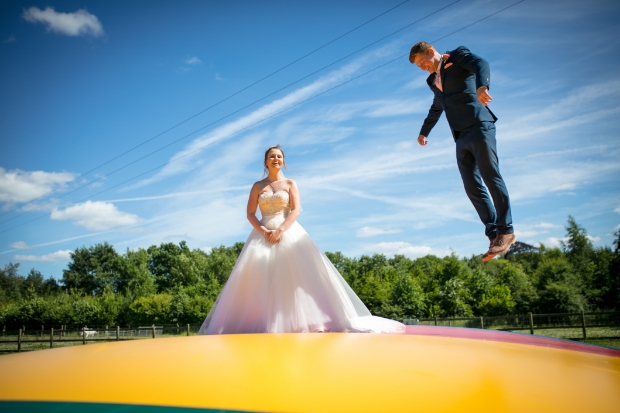 We have so many incredible memories. As we walked down the stairs to the ceremony, my dad whispered in my ear that he loves me and he's proud of me. It made me cry, which annoyed my sister as my make-up started running! I also loved when Ed and I had our couple shots taken.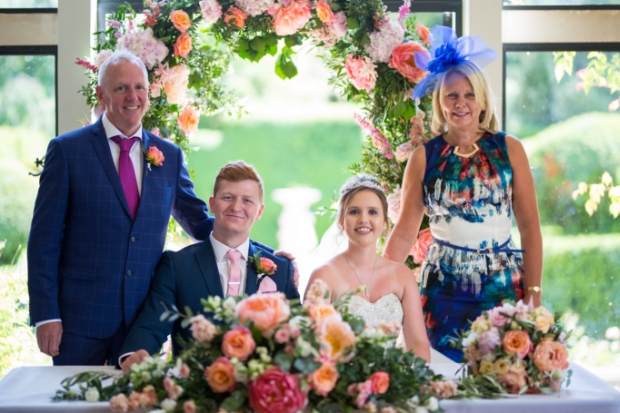 My parents were so supportive and helpful during the whole process. They took Ed into the family with open arms, and it makes my heart so happy when I see how close they are.