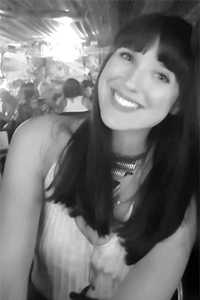 Get to know Hannah Faulder, editor of Your Bristol & Somerset Wedding, with these top 10 questions.
What do you love most about working on Your Bristol & Somerset Wedding?
I feel so lucky to work on Your Bristol & Somerset Wedding. We have a plethora of incredible venues from historic mansions to rustic farm settings and our local wedding suppliers are just as diverse. Amazing locations and talented suppliers means incredible local weddings!
Describe the style of a Your Bristol & Somerset Wedding bride?
I see so many different types of couples in Your Bristol & Somerset Wedding, from the city-chic, cosmopolitan brides of Bristol to the festival-ready ladies of Glastonbury. No matter what type of wedding, our brides love their region and use the best local suppliers all captured by some super-talented photographers.
What's your favourite feature to write for Your Bristol & Somerset Wedding?
It's got to be our real weddings. I think I'm naturally very nosey; I just love hearing all the engagement stories. I'm a sucker for a wedding that's full of personal touches, whether their nuptials are a full-on fairytale extravaganza or they have a knees-up in a field wearing their wellies; I love a wedding that truly reflects the couple.
If you were to get remarried what type of wedding would you have?
We had an al fresco summer wedding held in a yurt with a tropical colour scheme; our day was perfect and we were so lucky with the weather! If we were to renew our vows I'd like to do something completely different – I'm thinking a contemporary winter theme held in a city-chic venue, full of striking modern touches.
Who would be your number one wedding guest and why?
Dolly Parton! I think she would be up for a party and would certainly bring some fun to the proceedings.
What are the five words that best describe you?
Drives a little pink convertible!
What books do you enjoy reading?
When I'm not reading one of our County Wedding Magazines, I love John Steinbeck! My favourite book is Tortilla Flat; I can read it and dream of sunny California.
What three items could you not live without?
Firstly, a Tangle Teezer! My poor hair doesn't know what's hit it with all the bleach I've put on it recently. My sunglasses. You've got to be ready for those rays at all times. A notepad. Whether it's on my phone or an old-school paper notebook I spend my life writing lists and reminders for myself!
Favourite food?
I love a spicy Quorn chilli with a pile of cheesy nachos.
Where are you happiest?
This is an easy one! I'm always picturing myself on a sun lounger with a mojito in one hand and a good book in the other.
Contact me
I'd love to hear all about your plans for your big day, or whether you'd recommend your wedding suppliers. Alternatively, let me know about any budget-saving tips you feel may benefit other readers. Email me at editor@yourbristolsomerset.wedding.