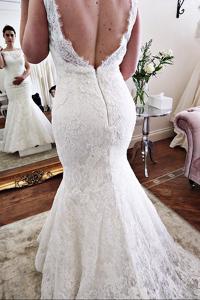 Finding the one
Q. I have a pear-shaped figure. How do I find a dress that suits my shape?
A. Sarah Parker says: As a fellow pear-shaped girl, I feel I can answer this pretty honestly. My sister and I are joint-owners of The White Collection and come from a long line of women whose bottoms could warrant their own postcodes! We've cursed our derrieres over the years, but we've learnt to love them. This has been a long process, and when I was shopping for my own wedding gown, my hips and I were still not on good terms.

The silhouette you opt for really comes down to a mind-over-body matter. You're either comfortable showing off your curves or not. If it's the former, pick a fit-and-flare fishtail style and own it. If you're less comfortable, find a dress that highlights your smallest area – your waist – and opt for a flowing or ballgown skirt.

Bear in mind that if you don't try different shapes, you don't know what you may be missing. You might want to hide under a full dress, but without trying other shapes, you may be overlooking something you'd look fabulous in.
Sarah Parker
www.thewhitecollectionbridal.co.uk