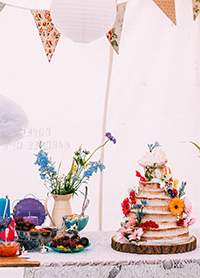 Tipi, or not tipi
Q. We're having a tipi wedding in spring but don't know where to start with the styling. What do you suggest?
A. Lynne Panes says: Firstly, decide on the theme of your wedding – do you want a minimalist or elaborate style? Do you favour a festival vibe, boho look or rustic theme? Next, think about each section of your venue and how you want it to look. Here are some ideas…

- The entrance. This is the first thing your loved ones will see so try to create some impact. Think signage, stepladders, wheelbarrows, tin baths and milk churns to set the scene.

- The walkway. Use shepherd's crooks with festoon lighting, dream catchers and bunting. Alternatively, a tall birch stake canopy hung with fairylights and pom poms would look gorgeous.

- Tables. Pillar candles, vases and tea lights look amazing on a fabric table runner with greenery. Add small log slices or sparkly accessories for added wow factor.

- Table plan. Pallets, wheelbarrows, window frames and shutters can all be upcycled to create a fabulous display. Finish off with pretty flower pots.

- Hanging décor. Greenery garlands and floral hoops are very much en vogue. Paper lanterns, origami and lanterns can be used to make a real feature of the tipi's apex.

- Bar and cake table. Individuality is key when styling your big day so why not opt for something a bit quirky, like an Indian tuk tuk as your bar? Trestle tables also work brilliantly decorated with vintage props. A gin or prosecco bar would go down a storm!

- Dancefloor. Use a different canopy drape to highlight this area and separate it from the rest of the space.

- Chill-out area. Use one of the tipi hats for relaxation with rugs, sofas, giant cushions, low tables and plants.
Lynne Panes
www.rusticrentals.co.uk