Ask the experts
Here is a selection of Q&As from Your Bristol and Somerset Wedding magazine. If you would like your question answered by our experts, please email it to editor@yourbristolsomerset.wedding.
To view more Q&A's on a different topic, please select one from the list below.
Hot topic: Happy families
Our experts solve your problems
---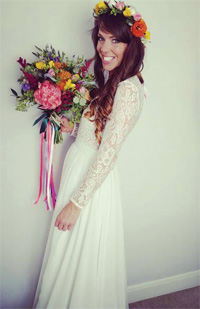 Floral dilemmas
Q. I'd like the bridal party to all carry bouquets; but with the eldest bridesmaid at the age of 30, right down to the youngest flowergirl being three-years-old. What type of designs do you suggest?
A. Fiona Lafon says: The bride's bouquet will be individual whether in size, style or both, and will usually set the theme for the other bouquets. Bridesmaids can have smaller, identical versions of the bride's bouquet. Alternatively, they can carry versions which match in terms of colours and style but are slightly different in their composition – this will create a more relaxed, natural look to the flowers.

Bridesmaids can also have coordinating flower crowns. In a recent wedding I worked on, the bride had a really colourful bouquet and flower crown, and her bridal party had smaller versions in a more neutral colour palette but they still matched and it looked amazing!

For children, I recommend mini-posies. Gypsophila (known as baby breath) is a popular choice, as it looks lovely, is light for young flowergirls to carry and it's a sturdy bloom so won't mind being thrown around a little! Another option for children is having a flower wand, adorned with ribbons and beautiful bright flowers. Little floral halos of gypsophila or chamelaucium (wax flower) also look really cute. When built on a wire, they can be lifted on and off easily, like a crown – usually the little girls never want to take it off.

I wouldn't recommend pomanders as the foam for these will need to be soaked in water, and can make them quite heavy for children to carry.
---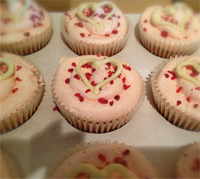 Cake expectations
Q. My mother-in-law has offered to make my wedding cake, whereas I have my heart set on a creation by a local cake designer. Help, what can I do!
A. Carly Westcott says: This is a tricky one as I appreciate you don't want to hurt her feelings or create any extra unnecessary worry for yourself; fear not, there are a couple of options for success here! If your mother-in-law is experienced in any form of icing work (or any kind of floral or craft work) maybe you can suggest she makes a decoration to top the professionally made cake as this can be done far in advance – only, however, if you're confident you'll like and approve of the decoration. A sympathetic approach may be the most tactful, you can highlight you don't want to bring any stress onto anyone the day before the wedding and would love to enjoy her company for a nice lunch or for a different favour you need only her for the day before the wedding, rather than her slaving away on a cake you insist!
---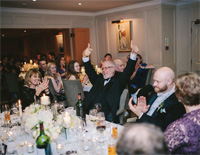 Take a seat
Q. My hubby-to-be and I both have 'modern' families, with step-parents and -siblings etc. We're struggling with a seating plan layout. What do you suggest?
A. Josh Tully says: Seating plans are always a headache whether your loved ones are conventional or a 'modern' family. I'd suggest you take the stress out of it completely and do a contemporary-style wedding breakfast; instead of sitting down to dine, you have more of a drinks party with bowl food (small bites being offered around), allowing everyone to be much more social – it's also quite fun to break tradition and just treat the wedding as a celebration.

Alternatively, split everyone up, each family member you're uncomfortable with sitting next to another, give them a table each to host, then make the top table much more about key figures in the wedding party such as bridesmaids, ushers etc. This allows you to really mix it up but also ensure everyone gets to mingle and potentially meet new people.

Don't fear the tableplan, have some fun with it and maybe even play a little match-making with your single friends. Always start the plan with the most difficult guests and work backwards. Ultimately everyone will move around and socialise anyway, and it's only a few hours of the whole day!
---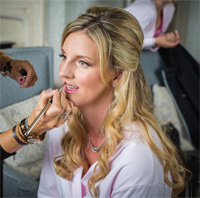 Planning ahead
Q. I want to have my bridal make-up, as well as the bridesmaids and mother-of-the-bride's make-up, done by a professional make-up artist. What plan of action do you recommend to make the morning as stress-free as possible?
A. Sally Bracey says: If you've decided to leave your make-up to the professionals on your wedding day, there are a couple of things you need to remember.

Firstly, going on recommendation is always a good thing. It's nice to be able to hear exactly what someone's like and that they're good at their job. If you don't know anyone, have a look on the internet and get in touch with the make-up artists you're interested in, to make sure you 'click' with them – after all, they're going to be a part of your wedding morning!

If you're unsure of what kind of style you'd like, it's a real help to a make-up artist if you take along pictures to your consultation.

You absolutely have to have a trial beforehand. You need to meet your artist, talk about the day, the look, timings and make sure you feel comfortable in their hands. If anyone in your bridal party feels anxious about having their make-up done, you can also ask for them to have a trial too.

On the morning of the wedding trust your MUA; they've done this many times before and know how long it will take and the best way to make the morning run smoothly.

As long as you provide a reasonable amount of time for the make-up to be completed everything will run smoothly and, with a bit of luck, you'll get to sit and take a few deep breaths and have a little pamper before your special day!
---
Contact our experts...

Carly Westcott
Baker

Fiona Lafon
Florist

Josh Tully
Events planner

Sally Bracey
Make-up artist
---