Ask the experts
Here is a selection of Q&As from Your Bristol and Somerset Wedding magazine. If you would like your question answered by our experts, please email it to editor@yourbristolsomerset.wedding.
To view more Q&A's on a different topic, please select one from the list below.
Hot topic: Botanical - themed weddings
Our experts solve your wedding worries
---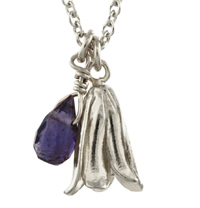 Back to nature
Q. I love how heavily flowers are being featured in wedding trends this year, and would love to incorporate a floral-design into my jewellery – what do you suggest?
A. Diana Porter says: At the gallery we stock over 80 contemporary designers and we have a range of botanically-inspired pieces.

If you wanted something subtle then perhaps choose Ulrike Vogt, who's collection is inspired by budding flowers – this would add the right touch of floral.

For that something blue why not opt for the bluebell pendant by Alex Monroe? If you wanted some bold statement accessories, then I'd recommend Kate Smith's silver pieces such as the cut out bangle or Jennifer Wall's bud earrings that also come in oxidised silver for a real stand-out piece.
---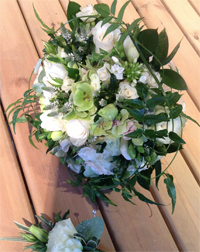 Spring has sprung
Q. We want a wild-flower look for our spring wedding – what blooms are in season at this time of year?
A. Kim Fear says: When I meet a bride that wants a wild flower bouquet I always feel that's a tricky one. Do they mean messy or do they actually mean quite neat but not the usual choice of flowers?

I usually go with slightly messy by adding different textures and shapes of flowers.

Some of the varieties I'd suggest would be the beautiful wildness of green helleborus with the soft points of veronica, ranunculus and lily of the valley for its amazing scent.

I feel it's nice to incorporate very seasonal blooms such as tulips and soldor with tiny grape hyacinths.

It's also very important to use different foliages for a wild bouquet. Thelaspi is a lovely spring foliage with the fantastic lime green of alchemilla mollis and asparagus fern for a softer feel, not forgetting the silvery grey eucalyptus and rosemary.

It's obviously dependent on your colour scheme, but there are so many flowers available we can always come up with lots of great ideas.
---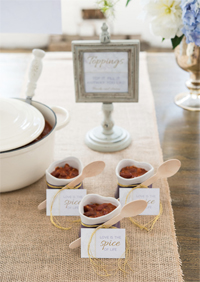 Serene Styling
Q. We've just got engaged and have no idea where to start with theming our day. What will be the big trends in 2017 that we can be inspired by?
A. Claire Ridley says: 2017 sees your flowers, cake and catering making a statement as part of your styling – here's how...

• Offer bowl food and grab-n-go tapasstyle dishes served at mini styled food stations to form part of your 'look' – they're a great way to encourage guests to mingle and are only small bites so that guests can try a few.

• Cakes featuring elaborate, cascading fresh flowers are now becoming wow-factor centrepieces at weddings. Long gone are the days of cakes being placed at the back of the reception room, now it's all about over-the-top floral displays and multiple tiers.

• With a design this incredible, it's an idea to display it on a feature table of its own, like this one made from bark slices.

• Overhead floral displays are now a popular trend for receptions. Floral chandeliers suspended from the ceiling over the top table, apothecary bottles containing single blooms and hanging from trees plus giant floral letters or a heart wreath hanging over the sweetheart table make for fab displays of flowers that coordinate with those used on your tables and dotted around the venue.
---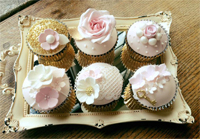 Sweet sensations
Q. We love the on-trend botanical theme, how can we reflect this in our cake design?
A. Kelly Days says: This is definitely the biggest styling trend for 2017; with its fresh colours and clean finishes it's so simple to incorporate this trend into a wedding cake for your big day!

The use of white and a variety of green – the latter is also this year's musthave colour – you can create a truly stunning crisp and elegant look.

You have a choice of design options, a simple white, fondant tiered cake with a beautiful wreath design made using handmade green sugar leaves and white sugar flowers. A simple yet effective design which could incorporate deep evergreen colours, which contrast nicely against the white backdrop of the cake and give you a beautiful and elegant finish. Or why not choose a buttercream cake with a rustic design or a semi naked cake, which would then allow you to use fresh foliage and flowers on your wedding cake, which not only looks effective but also keeps your costs down.
---
Contact our experts...

Claire Ridley
Editor

Diana Porter
Jewellery designer and maker

Kelly Days
Cake designer

Kim Fear
Florist
---