Ask the experts
Here is a selection of Q&As from Your Bristol and Somerset Wedding magazine. If you would like your question answered by our experts, please email it to editor@yourbristolsomerset.wedding.
To view more Q&A's on a different topic, please select one from the list below.
Hot topic: Al fresco nuptials and gift-giving
Our experts solve your dilemmas
---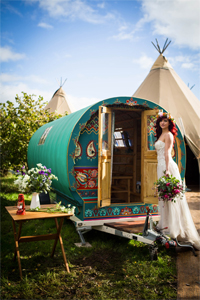 A place to rest your head
Q. We're looking to continue our festival theme by glamping on our wedding night. We'd love something really different, what do you recommend?
A. Juliet King says: When it comes to your big-day celebrations only the best is good enough, and that extends to your first night as a married couple. My partner Greg and I have been hiring our gypsystyle caravans for eight years. Greg builds them in our Bristol workshop before fitting bespoke furniture and lining with award-winning fabrics from Vanessa Abuthnott (www.vanessaarbuthnott.co.uk). Then it's my part! I design, paint and gold leaf the caravans by hand and create beautiful features such as stained-glass windows.

At 15ft long there's plenty of room inside, sleeping up to four people on double bunk beds with a seating area and plenty of storage for your wedding wear. We'll deliver and position the caravan for you so you can enjoy the comfortable setting and make the most of the quirky photo opportunities.
---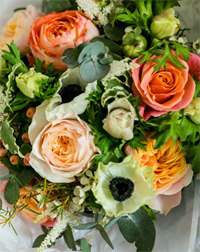 Blooming marvellous
Q. We're getting married in March just as the seasons begin to change, what flowers work best for a springtime theme?
A. Lisa Elliott says: I love a March wedding; they benefit from some of the freshest and loveliest blooms. Choosing seasonal flowers will not only guarantee the best quality but they also offer fantastic value for money. Anemones and ranunculus in soft ivory tones would work really well. Add a splash of colour to welcome the new season and mix in some foliage to really make the most of the time of year. Tulips really evoke spring for me, and they come in an abundance of vibrant colours. For your centerpieces you could opt for planted hyacinth bulbs in glass vases dressed with moss, the scent wafting its way through the air. Cherry or apple blossom would also look wonderful and gives a feeling of bringing the outside in.
---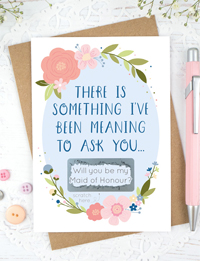 Bride tribe assemble
Q. I want to get my best girls a present for when I ask them to be my bridesmaid. I'd love to do something a bit quirky, what do you suggest?
A. Joanne Hawker says: Proposing to your best girls can be just as exciting as when your partner got down on one knee! After all, it's something that'll be remembered for years to come so it's great to make it really special.

The best surprises are the ones you don't see coming, so these scratchcards are ideal. With gorgeous handwritten text and a range of pretty floral patterns, the recipient simply needs to grab a coin and scratch off the silver foil to reveal the secret question. You just have to sit back and watch their excited faces as they find out what their role will be in your nuptials. To really personalise it, you can also have a totally bespoke message inside. Either way, be prepared for lots of hugs and happy tears.
---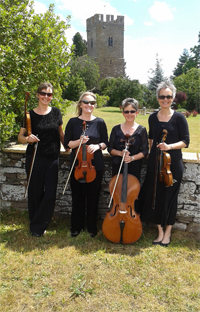 Let me entertain you
Q. We're tying the knot al fresco in picturesque gardens and we'd love some live music. What options do we have?
A. Katy Latham says: A string quartet is a great choice for your special day and would fit perfectly in the setting. Our repertoire offers a wide variety of classical favourites adding a truly sophisticated feel to proceedings.

We'd need four armless chairs and adequate space for us to sit and play. You'll need to give some thought to the layout of your ceremony. We'll need shelter from the sun or wind if playing outside, and always remember to make a contingency plan for rainy weather – even a Saturday in July can end up cold and damp so an indoor back-up is essential. We're fully acoustic so consider a space where it isn't too loud for your guests, but near enough for them to get the benefit of the music.

We're always on-hand to advise, and you can check with your venue too as they'll know the best spots.
---
Contact our experts...
---