Ask the experts
Here is a selection of Q&As from Your Bristol and Somerset Wedding magazine. If you would like your question answered by our experts, please email it to editor@yourbristolsomerset.wedding.
To view more Q&A's on a different topic, please select one from the list below.
Hot topic: Rustic weddings
Our experts solve your dilemmas
---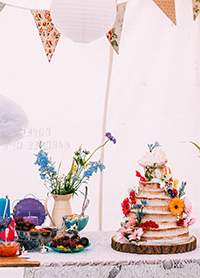 Tipi, or not tipi
Q. We're having a tipi wedding in spring but don't know where to start with the styling. What do you suggest?
A. Lynne Panes says: Firstly, decide on the theme of your wedding – do you want a minimalist or elaborate style? Do you favour a festival vibe, boho look or rustic theme? Next, think about each section of your venue and how you want it to look. Here are some ideas…

- The entrance. This is the first thing your loved ones will see so try to create some impact. Think signage, stepladders, wheelbarrows, tin baths and milk churns to set the scene.

- The walkway. Use shepherd's crooks with festoon lighting, dream catchers and bunting. Alternatively, a tall birch stake canopy hung with fairylights and pom poms would look gorgeous.

- Tables. Pillar candles, vases and tea lights look amazing on a fabric table runner with greenery. Add small log slices or sparkly accessories for added wow factor.

- Table plan. Pallets, wheelbarrows, window frames and shutters can all be upcycled to create a fabulous display. Finish off with pretty flower pots.

- Hanging décor. Greenery garlands and floral hoops are very much en vogue. Paper lanterns, origami and lanterns can be used to make a real feature of the tipi's apex.

- Bar and cake table. Individuality is key when styling your big day so why not opt for something a bit quirky, like an Indian tuk tuk as your bar? Trestle tables also work brilliantly decorated with vintage props. A gin or prosecco bar would go down a storm!

- Dancefloor. Use a different canopy drape to highlight this area and separate it from the rest of the space.

- Chill-out area. Use one of the tipi hats for relaxation with rugs, sofas, giant cushions, low tables and plants.
---
Modern family
Q. I have family members who don't get along, and people coming from all over the world. How do I manage this and make sure everyone enjoys the day?
A. Helen Hopkins says: Bringing a big group of people together for a wedding is so special that often the worries you have about guests falling out don't materialise because they're on their best behavior!

I'm sure no one would want to spoil anything, but pleasing everyone can be a tough job. Firstly, look at your table plan for the wedding breakfast and make sure you carefully seat people to minimise any chance of disagreements. Next, speak to your wedding planner, bridesmaids and ushers and make them aware of any potential problems so if anything does arise, they can be on hand to diffuse the situation quickly.
---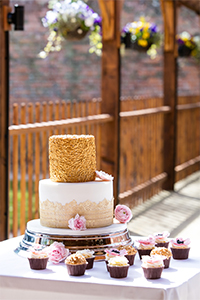 Let them eat cake
Q. We're tying the knot outside in summer and hoping for a hot day. Are there any cake styles and flavours that'll work best in this weather?
A. Kerry Hemms says: If you want to display your bake outside then you need to choose a style that can withstand heat. You not only want it to look beautiful, but taste amazing too when it's cut later in the day.

A fully iced cake, rather than a naked cake, would work best to avoid any exposed sponge drying out. To ensure the creation holds its shape and stays fresh inside for longer then a layer of chocolate ganache under the icing would be ideal; this can be dark or white chocolate to fit with any fabulous summer flavours such as mango, lime and coconut, or chocolate truffle and raspberries.

Adding a little metallic sparkle will make it pop in the sunshine. A touch of gold or silver will catch the light and ensure everyone notices your magnificent centerpiece. The addition of cupcakes will increase the amount of cake available, and extra portions can be kept cool and replenished if needed.
---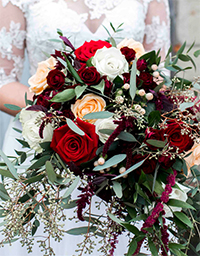 Bountiful blooms
Q. We're having a relaxed, rustic wedding. How do I reflect this in my flowers?
A. Laura and Ella says: Start by simplifying your designs and flower choices to fit in with this theme. Mix seasonal colours and textures in rustic containers like churns, barrels and willow arches to make informal decorations. The beauty of this is that they're flexible and can be moved from your ceremony to reception. Adding lots of foliage will soften the look and create flowing, feminine lines. We suggest eucalyptus for it's greyish colour and wonderful scent.

For the bouquet, opt for a loose, bohemian style. This look can be achieved with any colour palette but our favourite combination is peach, grey and deep red. Your theme lends itself perfectly to in-season blooms that reflect the natural growth in gardens. We love peonies, hydrangeas, and David Austin roses for the main focal point, nestled among British treasures such as delphiniums, stocks and dahlias.
---
Contact our experts...
Helen Hopkins
Wedding planner
Kerry Hemms
Angel's Kitchen
Laura and Ella
Twigs and Twine Floral Design
Lynne Panes
Rustic Rentals
---